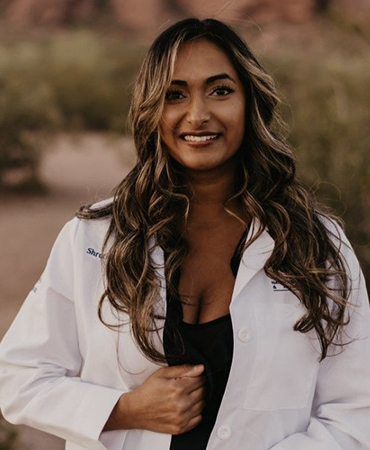 Hi all, my name is Shruti Sharma and I am currently a 4th year student at Sonoran University. I am from Owen Sound, ON, Canada and moved to Arizona in 2019 to begin my journey as a naturopathic medical student-right before the pandemic started.
I'm often asked why I travelled so far to attend this school when there are 2 naturopathic medical schools in Canada. Sonoran U is such a welcoming community and I felt so supported during my interview and tour that I couldn't say no. So I packed up my life, temporarily saying good-bye to my family, friends and fiancé and moved abroad. I am very pleased with this decision because I have had a great time during my time at Sonoran. I love the extended scope of practice Arizona has to offer and all the modalities we get to learn at the school. I also love the campus involvement I have been able to be a part of as I am currently the President of the Endocrinology Club as well as Education and Research chair of the Integrative Pain Management club.
Being a student at this school has opened many doors for me. I have been able to network with many physicians, obtain a social media position with the American College of Thyroidology, and done live case reviews with Dr. Alan Christianson (to name a few).
My interests include community medicine, endocrinology, and pain management. I would love to do hormone optimization in athletes, but I am open to all patient populations and enjoy general medicine as well. In my free time, you can find me exploring the desert, playing music, cooking, and hanging out by the pool with friends.