Dr. Erik O. Nelson
Class of 2017
---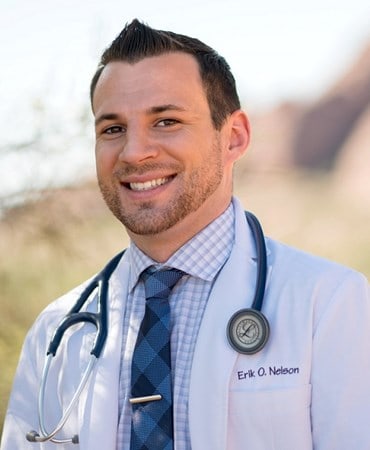 Discover how Sonoran prepared Dr. Nelson (2017) for the job of his dreams, harnessing the power of naturopathic medicine in pain management and sports medicine.
After you graduated from Sonoran, how did you obtain your position as a naturopathic doctor at Seacoast Spine and Sports Injuries Clinic in New Hampshire?
I always knew after coming to Arizona for medical school that I would return to my home state of New Hampshire to practice. A couple of months before graduating, I used Sonoran's www.ndjoblink.com website and found to my surprise there was a clinic looking to hire a naturopathic doctor just minutes from my hometown. I contacted the medical director of Seacoast Spine and Sports Injuries Clinic, Dr. Tamara Lovelace, DC, DACBSP, ICCSP, who happens to be a chiropractor and sports physician for the US Olympic Team, and instantly I knew it would be a great fit.
Once I returned to New Hampshire and established myself at our practice, I joined the New Hampshire Association of Naturopathic Doctors. I found out through NHAND and speaking with naturopathic doctors around the state that the state licensing board, the NH Board of Naturopathic Examiners, was looking for a naturopathic doctor with experience in regenerative injection and parenteral therapies. Having had shifts at the Sonoran Medical Center and the Sonoran Integrative Pain Relief Center (the only pain center at any of the naturopathic medical colleges) [now known as The Neil Riordan Center for Regenerative Medicine], I applied for the position and was appointed by New Hampshire's Governor Sununu earlier this year.
What do you love most about being a naturopathic doctor?
I love the flexibility in my medical approach and that I can tailor my treatment strategy to the individual patient. Every patient is unique and therefore every treatment should also be just as unique. I believe that in order to think critically to solve any medical problem you need to have not only an open-mind but also flexibility in your decision-making to treat the patient's individual "health puzzle". Naturopathic medicine allows you to see all the pieces and the big picture of things without having to risk missing out on an entire part of the picture.
How do you feel Sonoran prepared you for your career helping people return to an optimal state of health?
As a student at Sonoran, I had the opportunity to use the full scope of naturopathic practice during my clinical training and experience evidence-based naturopathic medicine during our clinical shifts. I am also very thankful for my time and experiences working under Dr. Jeffrey Langland and the amazing research department at Sonoran. The ability to be a part of research, to publish research papers and to acquire the skills to critically examine research and extrapolate clinically relevant information is paramount to being an excellent physician. My incredible experience at Sonoran prepared me for the position I hold today.
What advice do you have for upcoming graduates?
I would recommend that while they are in school, students really start spending their clinic time developing their own unique medical philosophy. Upcoming graduates all need to start critically thinking for themselves and begin to decide, "What kind of naturopathic doctor do I want to be?" You need to shift from the mindset of "How would Dr. X want me to practice?" to "How do I want to practice?"
Become a leader in your community. Volunteer your time. When I'm not seeing patients, I coach Varsity Boys Soccer and work as a member of an integrative group of team doctors at Kingswood Regional High School. When setting up your own practice or getting your name out to the public, a positive presence in your community and a willingness to help others goes further than a small fortune spent on marketing ever could.
To learn how Sonoran can prepare YOU for a rewarding career in medicine, contact admissions@sonoran.edu or call 480.858.9100.