Virtual Research Night Fall 2022: Innovation & Advanced Discoveries in Botanical Research
October 6 @ 5:30 pm

-

7:30 pm

MST
---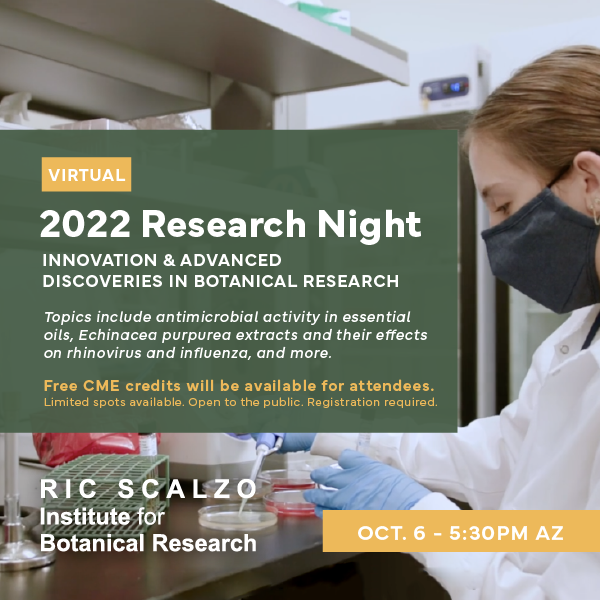 Welcome to Virtual Research Night Fall 2022 – premiere event showcasing the latest discoveries in evidence-based botanical medicine.
(Free CME credits available)
Presentation Packet – Coming Soon
Presentation Schedule:
The Role of the Ric Scalzo Institute in the Natural Products Arena
Presented by: Jeffrey Langland, PhD, Chair, Department of Research  |  Research Director, Ric Scalzo Institute 
Dr. Jeffrey Langland has been a research scientist studying viruses and host-virus interactions for over thirty years.  He has been studying antiviral and antimicrobial botanicals for the past 13 years.  Dr. Langland is highly recognized in the field of naturopathic medicine and in the scientific community.  He has nearly 60 publications in peer-reviewed journals and has presented his research at national and international conferences.
In vitro Characterization of Cellular Responses Associated with a Therapeutic Bovine Milk Product
Presented by: Laurell Matthews, ND, Grato Holdings and Susan Trapp, PhD, Senior Research Scientist, Ric Scalzo Institute
Antimicrobial Activity of Volatile Terpenes from Various Essential Oils
Presented by: Mareshah Dunning, ND, Resident, Neil Riordan Center for Regenerative Medicine
Bioassay guided fractionation of novel antibacterial compounds from Larrea tridentata
Presented by: Bobby Baravati, PhD, Research Scientist, Ric Scalzo Institute 
Direct Anti-rhinovirus and Anti-influenza Virus Activity Associated Echinacea purpurea Extracts
Presented by: Keely Puchalski, ND, Assistant Research Scientist, Ric Scalzo Institute
Event Sponsored By: