Dr. Jennifer Havens
Class of 2015
---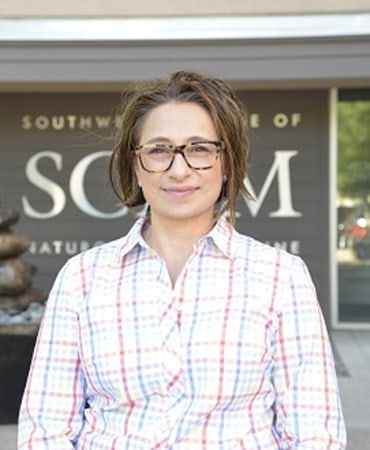 Dr. Havens graduated from Sonoran in 2015 and continued her clinical training as a Resident in Naturopathic Oncology at the Cancer Treatment Centers of America in Philadelphia. She specializes in integrative oncology treatment and research. Dr. Havens currently practices in Wisconsin and travels back to the Sonoran campus every few weeks to see patients here as well.
Dr. Havens has always been fascinated with cancer and was highly educated on the disease prior to attending Sonoran. In terms of what drew her to naturopathic medicine she told us, "I knew from a clinical standpoint that there had to be a better way to treat cancer. I went to naturopathic medical school specifically to do oncology and was very focused on that from the very beginning."
Dr. Havens' practice focuses on precision complementary and integrative protocols for patients with cancer, informed by genomic analysis and quantitative cellular nutrient status. Prior to becoming a naturopathic physician, she received her doctoral training at the University of Virginia in the Department of Molecular and Cancer Biology after which she continued as a researcher specializing in DNA-based molecular diagnostics. Her background in cancer biology and genomics, coupled with her training as a naturopathic physician, makes her uniquely qualified to create integrative treatment protocols driven by patient-specific genetic analysis.
Dr. Havens' combines the high-tech with the traditional to give cancer patients the best of both worlds. "I use all of the next-generation genetic sequencing platforms and the latest greatest liquid biopsy platforms and then marriage that information with natural therapies that are specific to what mutations are happening." She emphasized that the best outcomes for patients come when traditional and naturopathic medicine are used in tandem.
Dr. Havens' current research investigates the effects of somatic hyper and hypomethylation on tumor biology during both conventional and integrative treatment, as well as the use of natural products to modulate methylation both during treatment and during survivorship. Additionally, she is investigating the role of natural products in conjunction with Viscum album extract (VAE) therapy and modulation of progression of disease in patients using conventional chemotherapeutics and patients who have failed all lines of conventional therapy.
We asked Dr. Havens what her advice to new graduates would be, and her answer was twofold. "First, figure out what you want to focus on. We get exposed to so many modalities as medical students, so you need to find the ones that resonate with you, explore them more and then figure out how you want to fit into the healthcare world. It is easy to fall into loving all sorts of modalities and end up being a jack of all trades and a master of none."
Second, she emphasized continuing training after medical school. "I think residency is absolutely imperative. It gives you a chance to take all of the things that you have learned and apply them. Continuing education is also extremely important because every day the field is changing so it is important to stay up to date and keep growing as a physician."
In terms of what she does for work-life balance, Dr. Havens said she enjoys getting outside and connecting with nature. She told us, "I know it sounds hokey, but going outside is important. You can't diminish how vital it is to your health to get outside and a number of studies have shown this." She also enjoys working in community medicine to help provide healthcare to those in need.
Finally, we asked Dr. Havens what her favorite part of being an ND is. She said that the large toolbox of treatments available to NDs is invaluable. Not being limited by a rigid standard of care plan allows her to produce the best outcomes for her patients.